Middle School
Upper KS2 - Years 5 and 6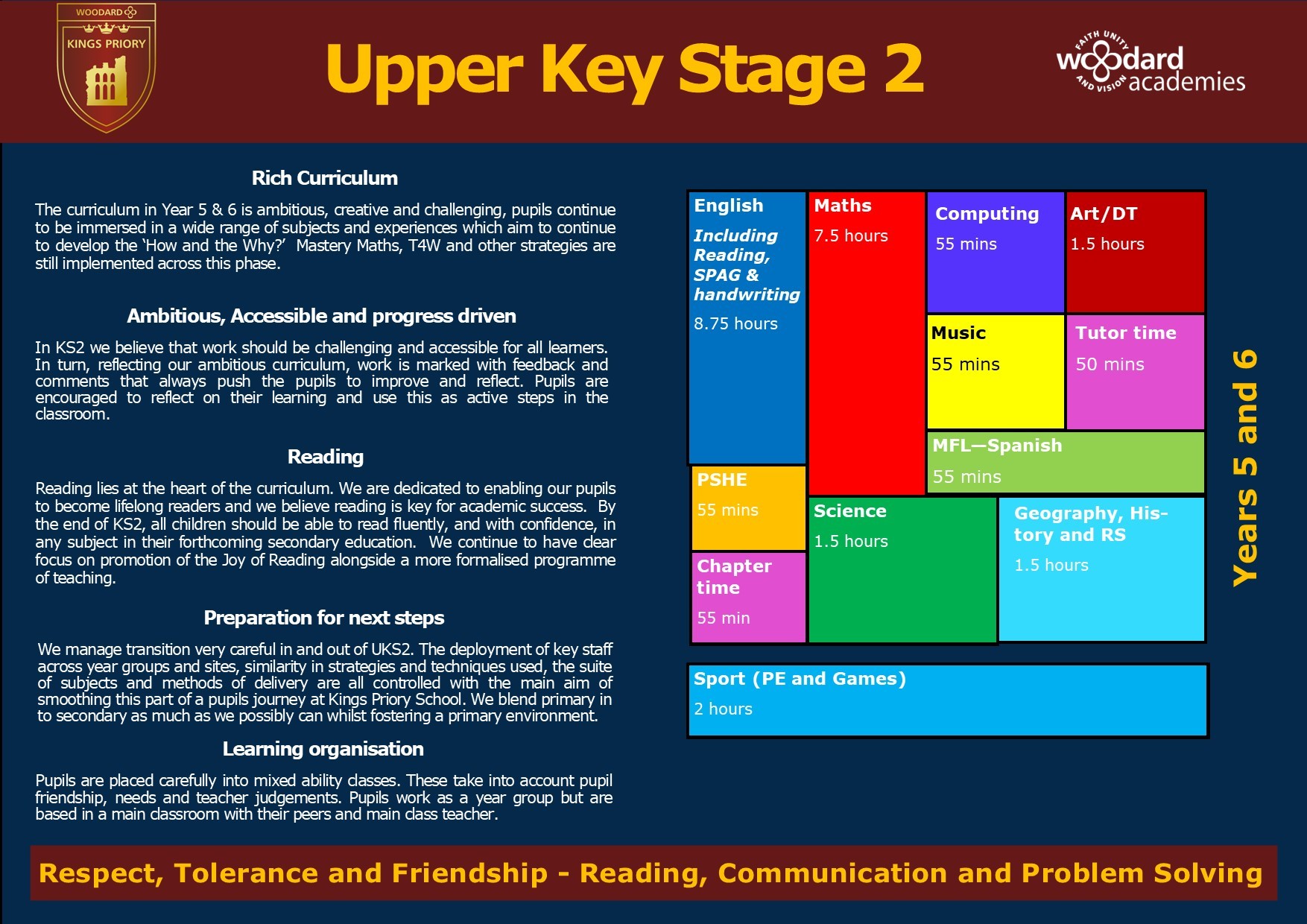 KS2 National Curriculum Tests (SATS)
Every year, at the end of Key Stage 2, pupils across the country take key stage 2 national curriculum tests (commonly called SATs)
Following the link below will take you to a presentation which details information on:
Important dates.
How the children are assessed.
Access Arrangements.
Reporting mechanisms.
How KPS uses the results.
How parents can support their child.
How school will be supporting pupils.
Key Stage 3 - Years 7 and 8
Year 8 GCSE Options
Year 8 GCSE Options Information
During the Spring term at Kings Priory School the focus for Year 8 turns to that of GCSE options.
On this page you will find the details of our GCSE curriculum and the process in which pupils will need to discuss and decide on which subjects they wish to follow at GCSE.
This step marks the end of Middle School and the progression into the Senior School. It is naturally a rite of passage for the pupils and should be taken sensibly and carefully with a focus on what they want to study up and past GCSE also.
We offer an academic curriculum in the Senior School with a focus on breadth of opportunity of study. With this in mind our pupils are expected, unless we identify an alternative pathway, study:
Maths
English
Science
1 Humanity subject
1 MFL subject
2 Option free choices (this can include an additional language and/or humanity subject)
At the bottom of this page you will find a number of video links along with the GCSE Options brochure for this year. Please use these to help with decisions being made about subjects. In addition, there will be a Year 8 Parents Evening where these choices could form the basis of your discussions and is a further opportunity to ask questions.
Key dates:
Options work completed with pupils during January utilising Chapter time and tutor times
Year 8 Parents/Information Evening – Late January
Deadline for OPTIONS forms – February
Dates are specific and will be shared with parents for the relevant year.
GCSE Options Brochure 2021 - 2022
GCSE Option Choices and Careers Guide
Creative iMedia - GCSEEnglish Language and Literature - GCSE
Specialist Middle School Teaching and Facilities
The Kings Priory Middle School teaching team come from both a primary and secondary background. This gives us the flexibility to merge their experiences to successfully provide a supportive but stimulating environment for our pupils to thrive and achieve.
Our main Key Stage 2 classrooms are housed in Ellison's building. This allows us to build on the best of both primary and secondary practice to deliver our unique middle years' curriculum model. The core curriculum time in Key Stage 2 is spent with a class teacher and supplemented with specialist teachers in a variety of none-core subjects. This provides our pupils with the benefits of continuity and flexibility within the classroom and with their learning.

The gradual introduction of subject specialist teaching from an early stage enables us to maintain pupils' enthusiasm, widen their interests and develop their full academic potential. All of our Middle School pupils will have opportunities to use specialist Science laboratories, Art and Technology rooms. By the time that a pupil has reached the end of Key Stage 3, they will have a wide range of teachers and be fully prepared with a strong foundation for GCSE and the future challenges of the Sixth Form.
Homework and Independent Study
Homework is set throughout our Middle School. The amount is age and ability dependent. Here at Kings Priory School, we believe that homework provides opportunities for our pupils to develop independent work habits for study and helps to prepare them for further education where much more work has to be done without direct instruction from a teacher.

Each year group from 5-8 has an individually tailored homework timetable. These can be found on the link at the right-hand side of this page. All pupils are expected to record any homework set which will eb overseen by their form tutor..

Homework can come in many forms but is always intended to consolidate or extend work which has been in class. Pupils may be expected to pursue their own lines of enquiry or prepare work for the next lesson, it will complement and enhance any work done whilst in school