Uniform
School is a preparation for life and therefore at Kings Priory School, pupils are expected to take pride in themselves and their personal appearance. As a general principle, pupils should start the day as they mean to go on.
Pupils must travel to and from school and arrive at school in full school uniform. School uniform must be worn from the start of the day and for all lessons - the only exception being practical PE classes. If a pupil's activity involves a sport, then school PE kit must be worn.
Otherwise uniform should be worn unless permission has been granted by the Principal, Vice Principal – Behaviour and Welfare or Phase Lead/Head of Year. This permission will be given to the member of staff in charge of the activity who will then inform those taking part in the activity.
Uniform should be worn for all trips and visits, and Parents' Evenings unless an alternative has been authorised by school.
Please click here for the up to date Uniform Policies for the First, Middle and Senior School and Sixth Form Dress Code.
Halo Code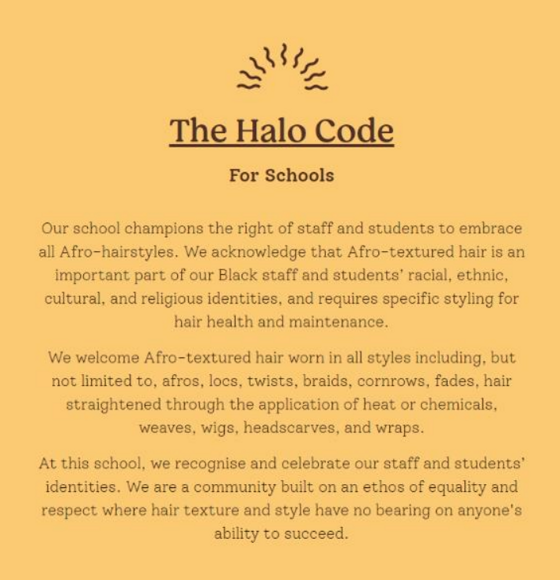 Kings Priory School Adopts the Halo Code
The Halo Code is a campaign pledge, signed by schools and businesses, that promises members of the Black community that they have the 'freedom and security to wear all afro-hairstyles without restriction or judgement'.
At Kings Priory we fully adopt the code. Kings Priory School is committed to working towards creating a world without hair discrimination and believe that no-one should have to change their natural hairstyle in order to thrive. By adopting this code, we are demonstrating our commitment to a world free from discrimination, where all Black members of our community have their identities fully recognised and celebrated.
Race-based hair discrimination is illegal in the UK and hair is a protected characteristic, under the law. However, 58% of black students experience name-calling or uncomfortable questions about their hair at school. 1 in 4 black adults report that they had a negative experience when at school in relation to their hair texture. 46% of parents say that school policies penalise afro hair in the UK.
As a school, we have signed up to the Halo Code to protect the rights of our black students and staff to embrace all Afro-hairstyles. We acknowledge that Afro-textured hair is an important part of racial, ethnic, cultural and religious identities, and requires specific styling for hair health and maintenance.
We celebrate Afro-textured hair worn in all styles, including but not limited to, Afros, blocs, twists, braids, cornrows, fades, hair straightened through the application of heat or chemicals, weaves, wigs, headscarves, and wraps.
At Kings Priory School, we recognise and celebrate individual identity. We are a community built on an ethos of equality and respect, where hair texture and style have no bearing on a person's ability to succeed.
We want our young people to move into the next stages of their lives, in college and employment, feeling confident in the people that they are, celebrating their identities and their place in the world. Able to challenge discrimination and prejudice in all its forms. We will continue to maintain our rules around a smart school uniform as we think this is also an important aspect of having a professional approach to work, but we will protect our students' racial, ethnic, cultural and religious identities.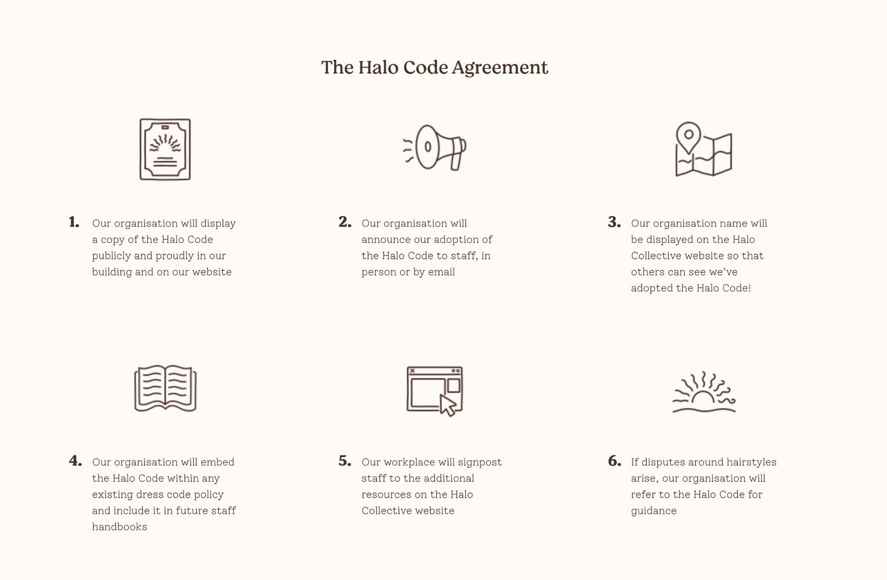 The Halo Code Agreement
1.Our school will display a copy of the Halo Code publicly and proudly in our building and on our website
2.Our school will announce our adoption of the Halo Code to pupils, parents, and staff, in person or by email
3.Our school name will be displayed on the Halo Collective website so that others can see we've adopted the Halo Code
4.Our school will embed the Halo Code within any existing uniform policy and include it in future student handbooks
5.Our school will signpost staff and students to the additional resources on the Halo Collective website
6.If disputes around hairstyles arise, our school will refer to the Halo Code for guidance