Out of School Club

The main aim of the Out of School Club at Kings Priory School is to create a partnership between children, parents and staff which assists and encourages the development of the children within its care in a thriving 'home from home' environment.
Kings Priory Out of School Club employs ten staff. We liaise closely with the school in order to ensure continuity of care, and to maintain good communication links.
We aim to provide:
Outstanding childcare for children in an out of school setting. Children can feel at home in a secure environment that is safe, stimulating and friendly, where they can relax and enjoy a variety of activities.

We are committed to setting a good example by showing the children and each other respect, kindness and co-operation at all times.

We are committed to making sure that all children are treated fairly and equally, providing the same play and learning opportunities for everyone.
Who can attend?
The club is available to all children who attend Kings Priory School from Reception to Year 8. We also welcome external pupils to our holiday clubs.
Opening Times
Term time - 7:30am until 6:00pm

Holidays and Inset Days - 8:00am until 6:00pm
Breakfast Club
Children are offered a choice of hot and cold breakfast.
Breakfast is served from 7.30 am until 8.10am each morning during term time.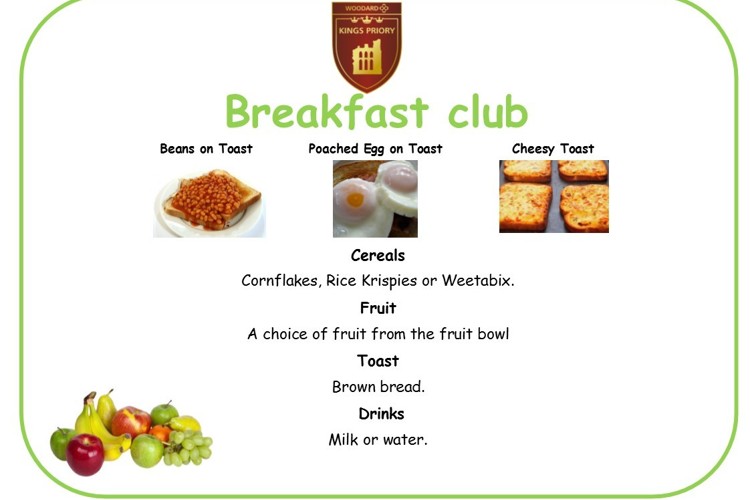 After School Club
All food is prepared for us, based on numbers attending, by the school's catering staff.
Children are offered snack immediately when finishing school or after their extra-curricular activity. We also have a fruit bowl available where children may help themselves.
The food served at OOSC is only intended to be an after-school snack and does not replace a full evening meal.
The children are offered a wide selection which varies each day and may include: ham or cheese sandwiches/wraps, tuna wraps, pizza, quesadillas, sausage rolls, cheese straws, cheese scones and choice of fruit and vegetable sticks such as cucumber, tomato or carrot.
We will provide specific snacks for any children with allergens, intolerance or special dietary requirements.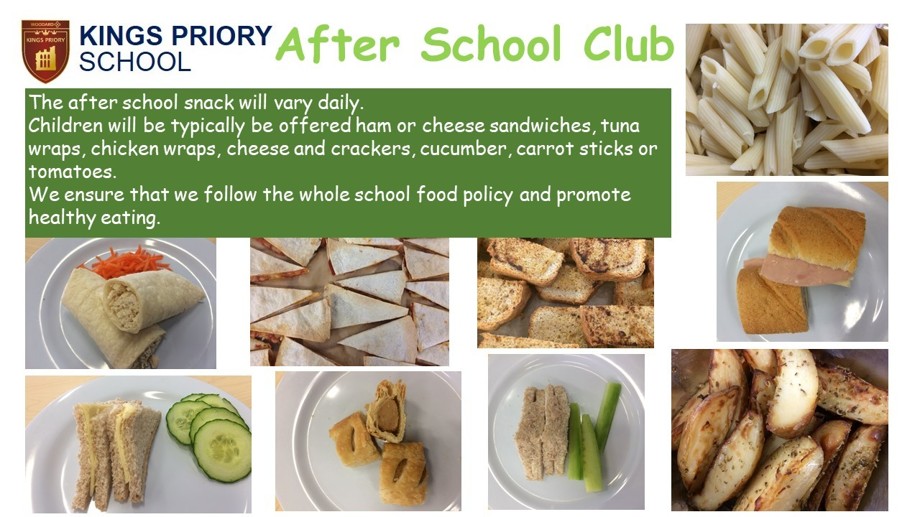 Holiday Club
The club is available to all children who attend Kings Priory School from Reception to Year 8.
Holiday Club is an ideal time for children to spend time with friends and family and enjoy fun activities together.
We also welcome external pupils from other schools.
Click here for more information and how to book Holiday Club
Parent and Pupil Voice - YOU SAID WE DID
It is of the upmost importance to us that we are providing the best possible service to both parents and children.
We regularly ask parents and pupils to complete a feedback survey. It is an excellent way to gather your views and help us to ensure we are still delivering what both parents and children want.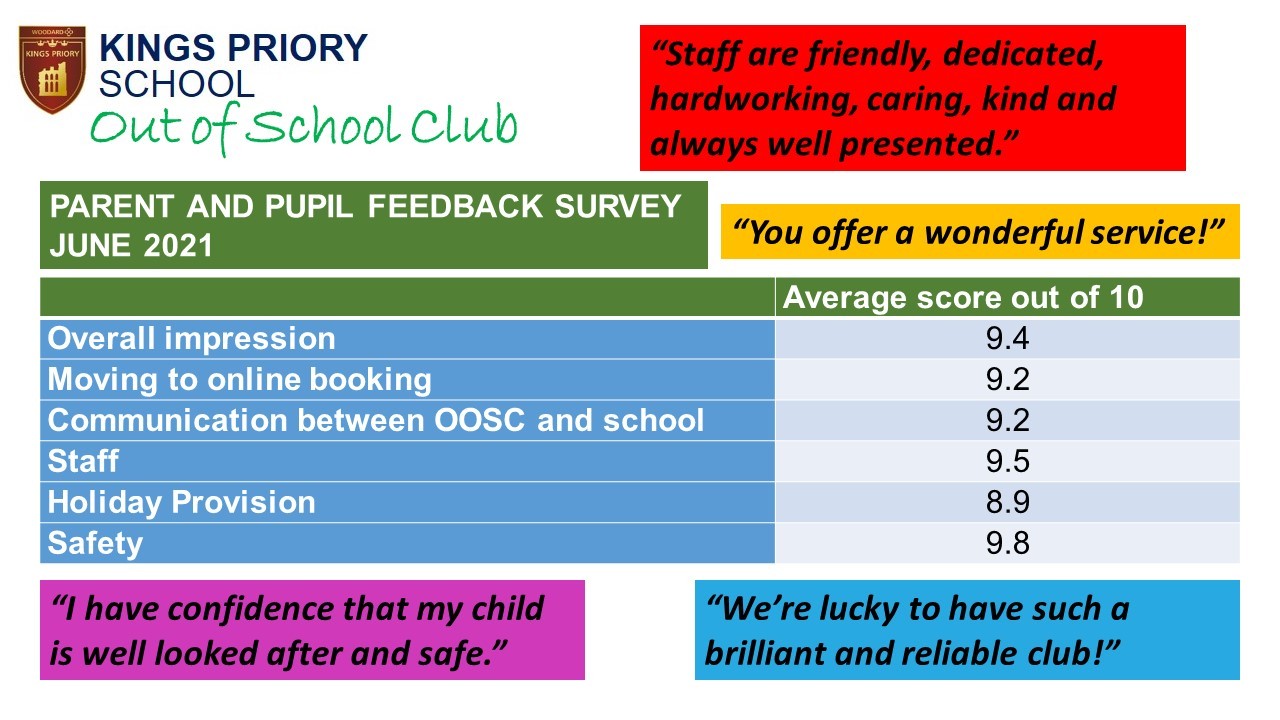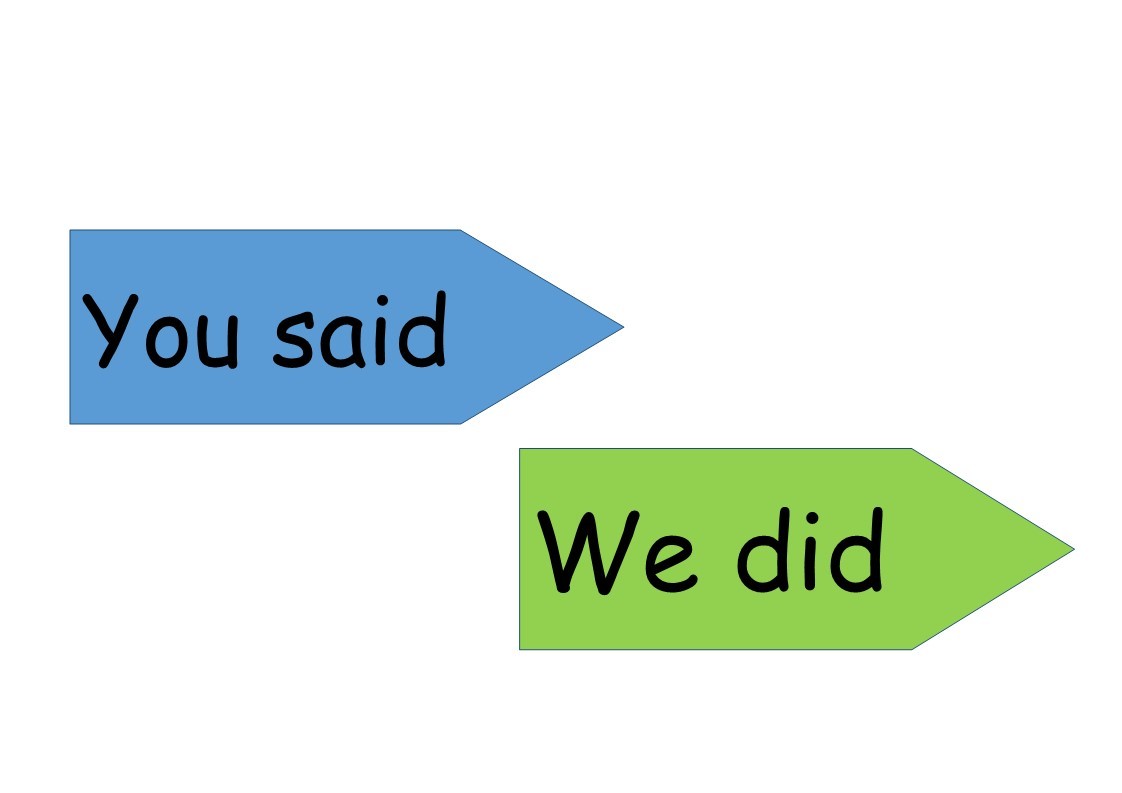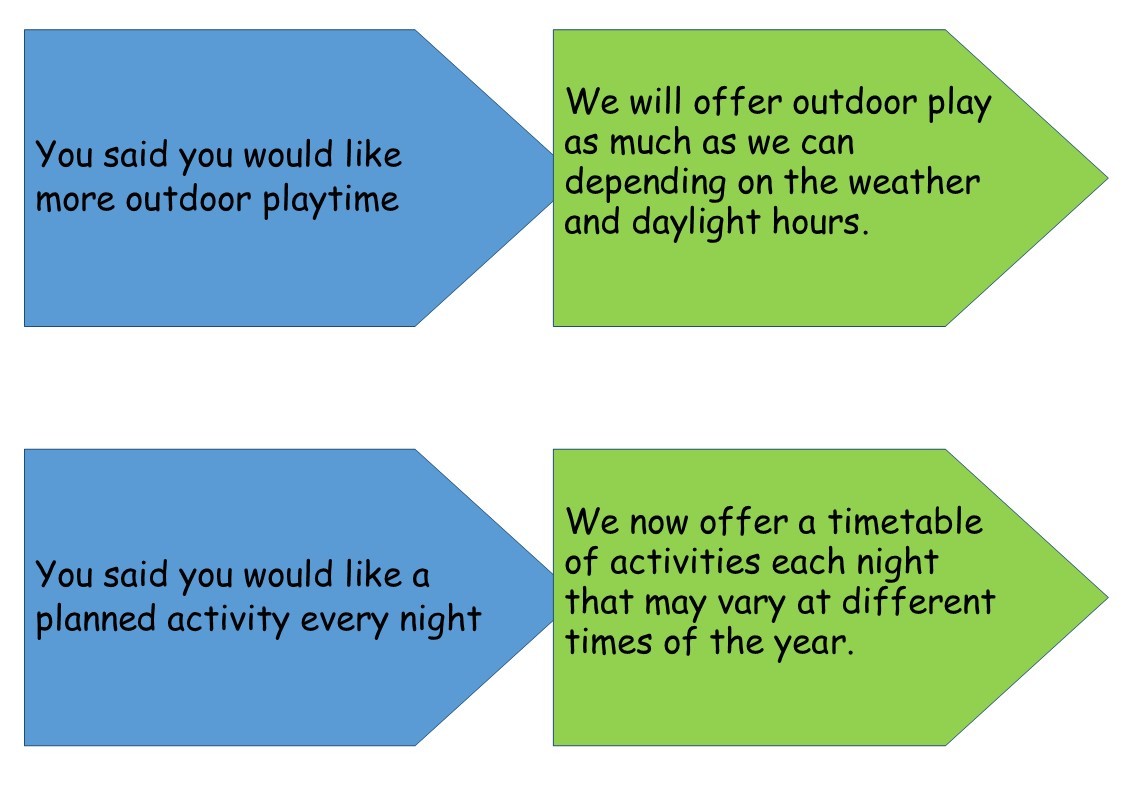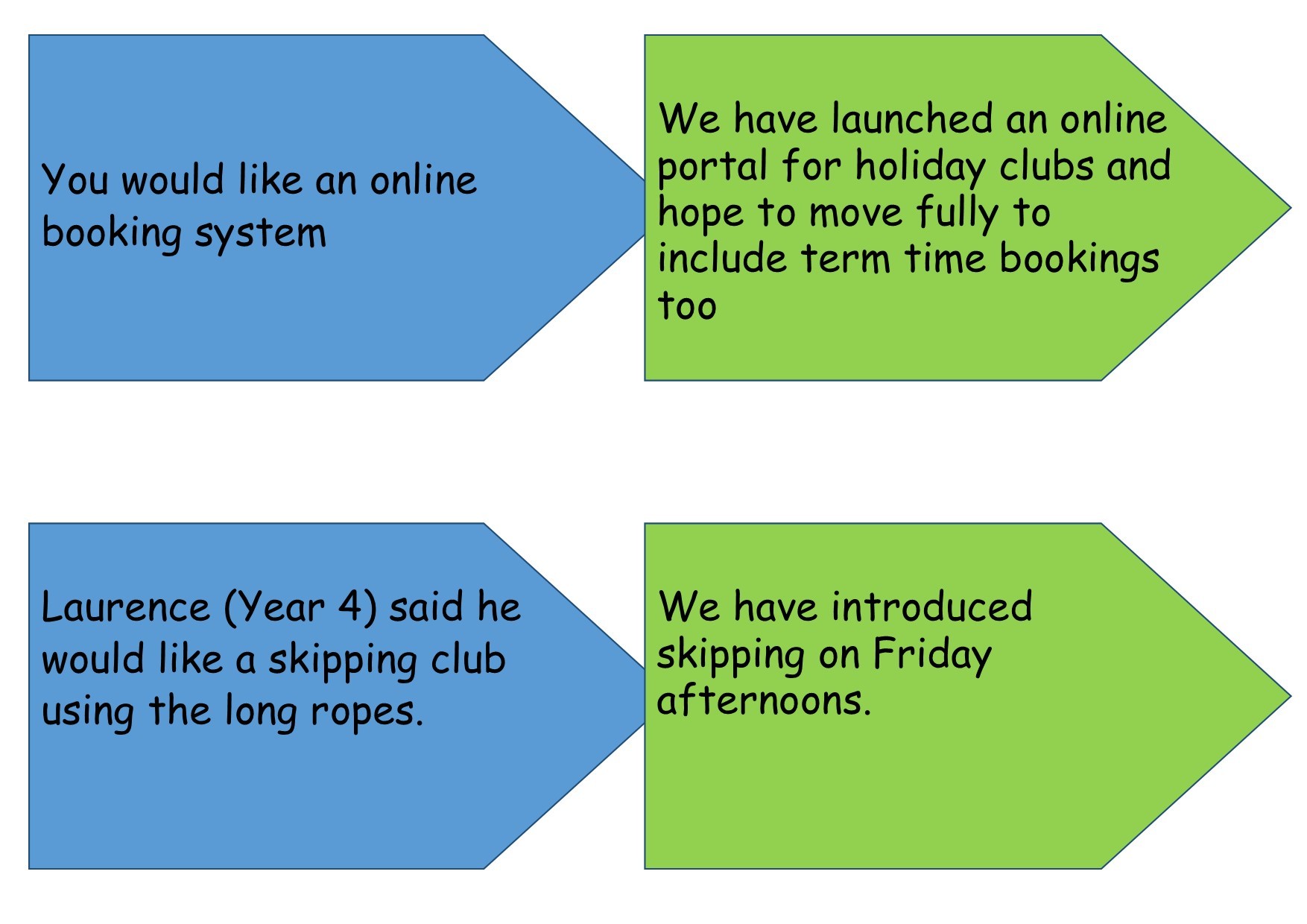 Parent and Pupil Survey Response - June 2021
Parent and Pupil Survey Response April 2019
Parent and Pupil Survey Response March 2018
Contacting the Out of School Club
As part of our ongoing commitment to provide the best possible provision at Kings Priory School Out of School Club,we would like to clarify a few procedures which should help to further improve communication between the Out of School Club (OOSC) and home.
Contact to OOSC via Email: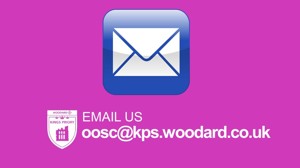 When trying to contact us regarding your child, please ensure that all emails are directed through the following email address and not sent directly to a member of staff, as detailed below:
Out of School Club: oosc@kps.woodard.co.uk
This will enable all emails to be dealt with efficiently and in the absence of an individual member of staff ensure that your query is dealt with as swiftly as possible. Staff do not have constant access to emails due to the hours they work but if you require a last minute place however therefore, is the most efficient way to get a message to the OOSC.
Contact to OOSC via Telephone: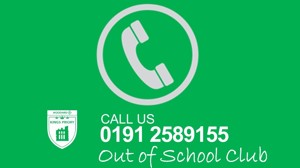 When telephoning the Out of School Club, the quickest way to reach the most appropriate person is through the number below NOT the school telephone line:
Out of School Club Mobile: 07825 265700 (used during the holidays for emergency contact only)
Parents are most welcome to call in at the OOSC reception to leave a message or discuss a brief item; however, meetings should be by appointment only. If a meeting is necessary after following all other lines of communication, an appointment will be provided by the OOSC. The OOSC will assign the most appropriate person to deal with your query; however, in the case of an absolute emergency please inform the OOSC staff of the concern and they will endeavour to contact the relevant member of staff.
Meetings in OOSC:
In the event that these lines of communication have not resolved your query or concern and you would like to meet with a member of staff in person, please let us know by using one of the above contact methods. Kings Priory School Out of School Club will endeavour to set up a meeting as soon as mutually convenient.
Members of staff aren't often available during the course of a school day and therefore we are unable to guarantee that a meeting will happen on the first day of request, unless of course we consider that there is urgent need. In order for us to determine who is the most appropriate person for you to speak to regarding your query it will be necessary for you to convey some detail of your reason to meet OOSC staff.
The Out of School Club will decide who that member of staff would be and will advise you accordingly. It is important that we work through our staffing model, as detailed below, in order to address your needs and those of your son or daughter as well as the OOSC, so it may not always be the person you request that meets with you. In the unusual circumstance where a member of staff is unable to answer your query at the time of your meeting, they will refer your request to an alternative member of staff who will be able to assist and will contact you with an outcome at a later, suitably convenient time. It is possible that this may be the same person. I am sure it is understood that staff with particular responsibilities and expertise will initially make contact to resolve any concerns prior to them being escalated.
Example illustration of structure for communication with OOSC:
Type of query

Likely person to deal with

Lost items

General Questions

Messages to pass to class teacher

OOSC Assistant

Bookings

Minor Issues

Pastoral Concerns

OOSC Deputy Manager

Safeguarding Concerns

OOSC Manager or Deputy Manager

Higher level pastoral concerns

OOSC Manager
We thank you very much for your continued support with lines of communication and hopefully the above will clarify the process and allow us to further improve the efficiency of communication between OOSC and home.
Terms and Conditions
Behaviour Management
The aim of these procedures is to safeguard both children and staff at Kings Priory's Out of School Club. Whilst the procedure sets out guidelines to reward positive behaviour, it also deals with the event of negative and persistently undesirable behavior.
At Kings Priory School's Out of School Club (OOSC) everyone has a part to play in the promotion of high standards of behaviour. It is important that there is a clear code of conduct reinforced by a balanced combination of rewards and consequences, whilst at the same time promoting an understanding that appropriate behaviour is the responsibility of the individual.
Out of School Club Behaviour Policy
Our location
The club is based within the First School.
Address:
Out of School Club
The rear of Kings Priory School
Percy Park Road
Tynemouth
Tyne and Wear
NE30 4LS