E -Safety
At Kings Priory School we have our own policies and e-Safety guidance to ensure that students and staff remain safe online.
New technologies are now an integral part of the lives of children and young people. Providing our students with opportunities to explore our changing world in exciting, challenging and dynamic ways will support not only the growth of more effective independent learners but also the emergence of students who are equipped with the skills for school, education and the workplace.
Sadly, as opportunities grow the risk to students also grows. As new trends and mobile apps grow in popularity it is vital to ensure that our students are prepared for the attached risks. In order to achieve this, we have established a comprehensive e-safety curriculum built around three key areas:
Awareness of risks
Avoiding risk
Reporting incidents
In order to further support all of our students we have an E-Safety team made up of staff who are support each key stage across the school, headed by our E-Safety officer Mr Kelsey the team are responsible for supporting students across the school, through education and providing support in the event of an incident.
Students and staff are further protected through our range of comprehensive school policies which protect all of Kings Priory's staff and students.
Help and advice for parents
The following websites and documents are designed to assist parents when talking to their children about e-safety issues.
Mr Nikolaus Kelsey is our Designated E-Safety Officer
E-Safety Team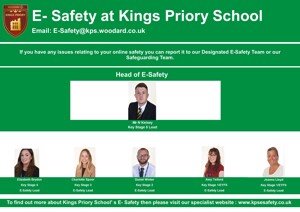 Report a concern by clicking here
E Safety ICT Policy
E Safety Social Media
E Safety Acceptable Use
E Safety - Bring your own device